In early July, Xperate were proud to exhibit at our very first conference at the LawNet #LNConf22 event. We were also looking forward to the first black tie dinner we've attended in nearly 3 years; so we really had to check that everything still fitted!!
It was really fantastic to meet up with so many familiar faces and existing clients of Xperate, as well as meeting those firms that we haven't worked with before. Everyone was delighted to come together in person for this prestigious event at the Celtic Manor resort in Newport, Wales and it provided an excellent opportunity to network and attend the thought provoking agenda sessions and evening awards.
Simon Hill participating in the network agenda sessions
Many delegates were looking for help with key development projects and integration work, as well as assistance with their workflows from a wide range of leading PMS systems. A key conversation with delegates conference was centred around the significant challenges in recruiting and retaining development & workflow professionals, with member firms concerned that many projects were being significantly delayed as a result.
As first time exhibitors, we've learned a few things that will hopefully help us when we attend shows and conferences in the future. Firstly, sustainability is important to us at Xperate so we wanted to avoid the use of traditional business cards and instead purchased metal NFC business cards that share contact information with a single tap against your electronic device. These were a huge success and something we will look to roll out across our team for future events.
Also, after what has happened with the pandemic over the last couple of years, the conference reminded us just how valuable it is to be able to forge new connections and reunite with old friends, on a face to face basis.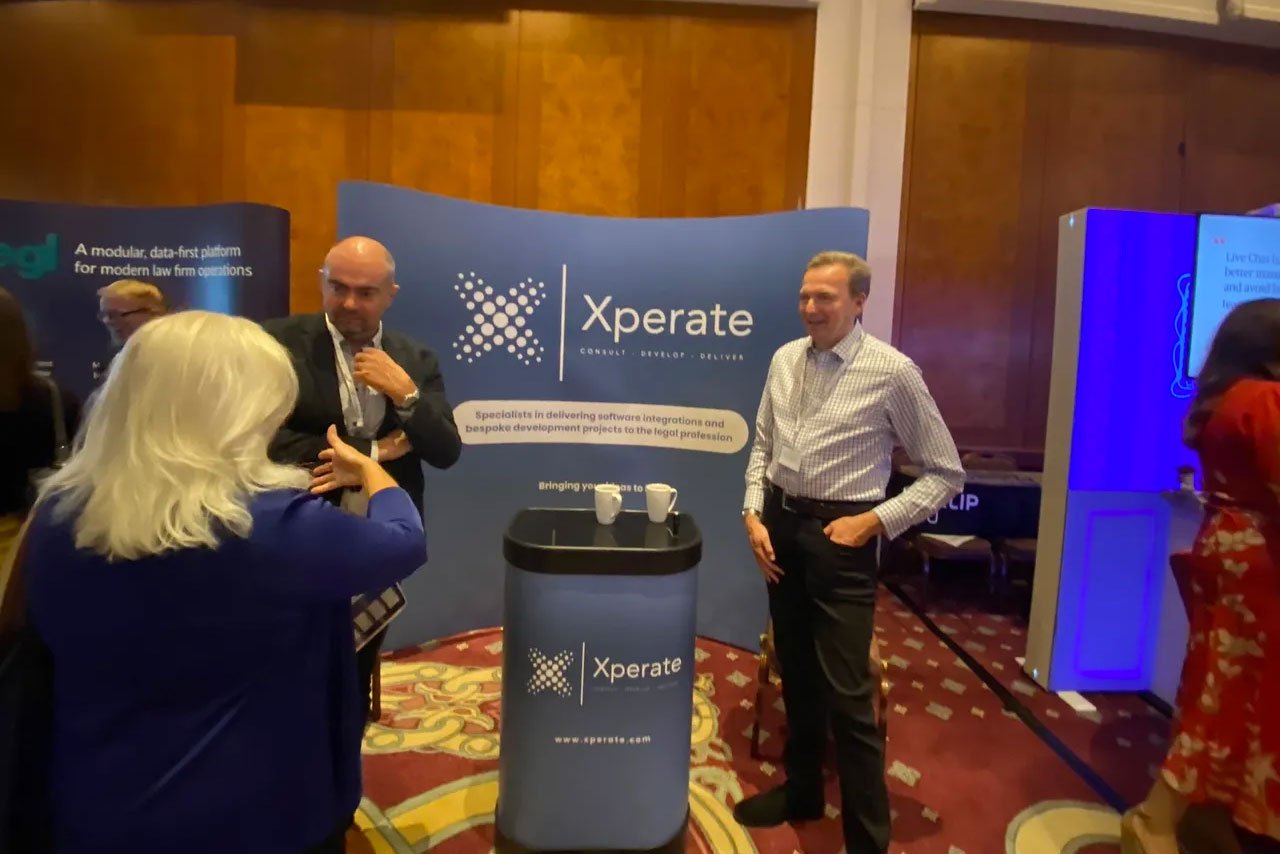 Mark Garnish (left) and Simon Hill (right) engaging with a Lawnet member
We really appreciated that so many delegates sought us out and came to have a discussion with us on our stand and at the networking events. We're very much looking forward to working with member firms on the development of their applications and workflows to give them a key competitive advantage in today's market for legal services.
We'd also like to take the opportunity to congratulate Denise Marcondes, Head of Finance at Grant Saw Solicitors, on winning the Xperate Prize draw and being presented with Sony's market leading headphones.
Huge thanks to everyone at LawNet for their help and support before and during the conference. We had a fantastic event and look forward to working with you and your members, as well as attending next year's conference!