Xperate are passionate about employing the very best talent into our teams. We have developed a highly successful Intern programme, selecting the top achievers from local universities in Pune, that ensures we are building a team of highly skilled professionals whilst also providing a scheme that encourages continuous learning and personal development.
We asked one of our interns to document their experience with Xperate. We hope you enjoy her journey.
Part One
My name is Srushti Shekhar Saliyan and I am currently working as an intern at Xperate while pursuing my B.Tech in Computer Science and Engineering from Sharad Institute of Technology College of Engineering. During my 7th semester in October 2022, we heard that our college would be conducting an on-campus recruitment drive to join a local development services business called Xperate. Internships in India are an important part of our degrees and there is competition to join the best companies. I began preparing for the drive and gathered information about the process and Xperate. Representatives from Xperate including Bharat Gidde, Xperate's Chief Technology Officer, attended the college to conduct a series of interviews and tests. Out of 80 students who applied, I'm one of the six selected as Trainee Developers!

Following the recruitment drive, there was a three-month gap before my regular college days started. During this time, I came across various opinions about joining a new company. Some of my friends mentioned that Xperate was a start-up and this may carry some risks. However, several people reassured me that a start-up environment would be beneficial for my technical skills and overall growth. Their advice resonated with me and I decided to join Xperate with a positive mindset and was eager to contribute to the success of the Company.

In December I received an invitation to Xperate's annual celebrations. I was thrilled and gladly accepted the invitation. The party turned out to be an amazing day for each of the interns. We had the opportunity to meet Mark Garnish (Xperate's COO) who had flown over from the UK, along with all our new colleagues, allowing us to start building relationships before we even started. It was during this time that I realised my decision to join Xperate was the right one. I was impressed by the work culture and the friendly environment of the Company. We were made to feel so welcome and felt part of the team instantly. They even paid for our transport to and from the event!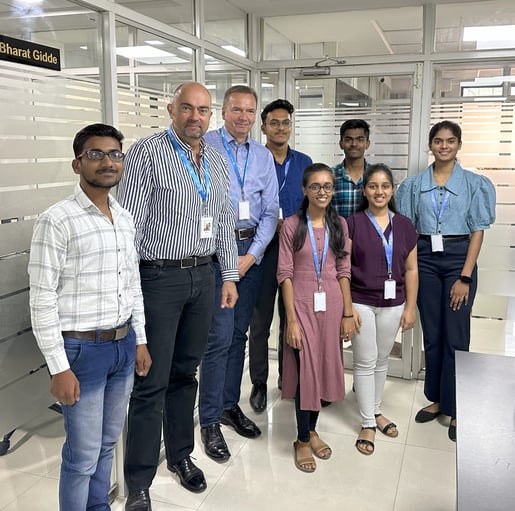 I officially joined Xperate on February 13 2023. This marked the beginning of my journey at the company. The first month was dedicated to learning and I was assigned the role of an SSIS developer. This was a new role and technology for me but with the support and guidance of my colleagues I found a clear path to progress. I am grateful to my manager, Nikhil, for his unwavering support and guidance. He was always there to teach and assist me whenever I faced challenges and his constant encouragement motivated me to believe in myself and strive for excellence. Additionally, my colleague Mayur also provided valuable assistance during the learning phase. This positive work environment and culture allowed me to grow not only in my assigned technology but also in other areas. During the second month, I worked with Angular and gained experience in the WIX Installer as well. In the following months, I delved into SQL and even had the opportunity to conduct research for certain tasks. After honing these skills I had the opportunity to work on a project for one of our market leading clients. The first few months of my journey at Xperate have been incredibly enriching and I have learned a great deal.

My favourite aspect of my role at Xperate is the opportunity to work with new technologies and constantly learn and grow. Every day presents new challenges, and I enjoy tackling them head-on, expanding my skill set, and finding innovative solutions. The supportive and collaborative work environment at Xperate fosters a culture of continuous learning, which greatly enhances my professional development. Xperate provides a great platform for all staff to develop themselves and offers opportunities to everyone as each of us gets the chance to work on different technologies and access to one of the leading learning platforms.

Overall, my experience at Xperate has been rewarding, both professionally and personally. Xperate's supportive atmosphere, combined with the diverse range of technologies I've worked with, has contributed to my growth and development. I am excited to continue my journey at Xperate, embracing new challenges and further enhancing my skills.
I am thrilled that Xperate have already confirmed my position ahead of finishing my degree and I am looking forward to writing a regular blog on my continuing journey with Xperate.