Srushti Saliyan joined Xperate in February of this year. A few months ago, she wrote her first blog: Diary of an Xperate Intern - Part One.

Since she joined us, Srushti has flourished in her role and now works as a Software Developer. She has recently written Part 2 of her blog series which explores further her journey at Xperate, highlighting her achievements and experiences so far.
Part Two
Hello everyone!
I hope you are all doing well. I'm excited to share the latest update on my journey. At the end of my first blog post, I had been advised that my role with Xperate had already been confirmed ahead of finishing my degree. I was offered the position of Software Developer and I've really enjoyed diving into this new chapter with the team.
Simon Hill, Xperate CEO, and Mark Garnish, COO of Xperate recently visited our India Office. Meeting Simon and Mark for the first time was a fantastic experience. They spent time sitting with all the employees in the office, working at one desk after another, ensuring they connected with everyone. This provided each of us with an opportunity to get to know them, learn from them, and build a stronger connection. During this time they asked me if I would like to write a blog to document my experiences with Xperate. I felt it was a great opportunity and I have really enjoyed doing it. One of my colleagues, Harshal Chougule, received a special recognition award for work he had completed. We were all happy for Harshal, and felt motivated to achieve more by the support received from Simon, Mark and Bharat Gidde, Xperate CTO.
When I completed my exams, my ongoing learning journey with Xperate continued. Occasionally, I encounter challenges, but I strive to address them effectively. I often get the opportunity to learn something new and work with different technologies. This includes how to create our own toolkit, MSI, APIs and I'm also constantly learning new things in SSIS flows. I'm lucky to be mentored by Nikhil Polawar who teaches us, supports us, challenges and encourages us to achieve more. This support has helped me and my teammates to grow in confidence and work more professionally.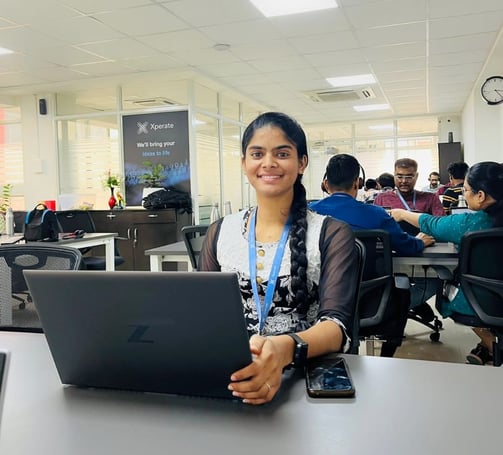 Xperate is a highly transparent company where everyone knows one another, resulting in a happy and safe working atmosphere. We organise some 'Fun Fridays' activities to balance work and the mental health of our employees. This helps to alleviate stress and provides everyone with the opportunity to explore their hidden skills and talents. Our CTO, Bharat Gidde, is a person who takes care and responsibility for all employees. An example of this is when some of us volunteered to decorate the office for Independence Day and we ended up leaving the office later than usual. Bharat personally ensured that everyone reached home safely, which I believe is a rare gesture not often seen from a Company's CTO.
Last month, I had the opportunity to participate in a campus drive at my college, which was a proud moment for both me and my college. It was a significant and valuable experience. During the drive, I had the chance to reconnect with my teachers and let them know how I was progressing at Xperate. I actively participated in the drive by delivering a speech to the students sharing my experiences. We conducted an examination for the students, followed by interview rounds to find the most suitable candidates. During this time, Kiran Dashrath provided me with valuable assistance and insights into how to handle interviews and assess the students effectively. His guidance covered various aspects of the process, and it was really helpful.
Xperate is a company where everyone gets an equal opportunity to develop themselves, learn new things, and support each other. It fosters a collaborative and inclusive environment where individuals can grow both personally and professionally.