Welcome to the class of 2023...
No, that is not a typo. We have just completed our main recruitment round for graduates to start at Xperate in May/June next year. After a tiring couple of days, we were delighted that 6 of the brightest stars of the future have decided to join us when they have finished their degrees.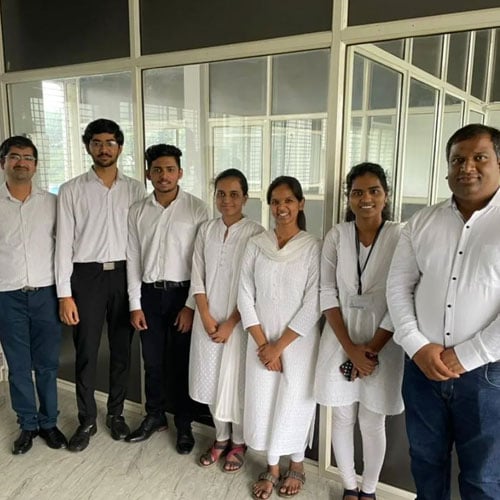 So how did a little company like Xperate get ahead of all of the Indian tech giants to be one of the first businesses to be allowed onto campus to begin our recruitment?
It started when Shivani Tate, one of our current team, approached the professor from her alma mater and explained what Xperate did, how we treated our staff, and more importantly our graduates, differently from the norm. In India, universities are focused on achieving good career outcomes for their students so they were keen to hear more. After speaking with our leadership team, we were invited to attend and set up our own recruitment drive. It is a huge honour to be invited into the process at such an early stage and we were delighted to embrace the opportunity.
Around 350 students listened to a presentation from our CTO Bharat Gidde, Technical Manager Nilay Deshpande and Shivani Tate who spoke about her experience of working at Xperate. All of the students took our technical test and of those, 29 were invited to attend an interview so we could find out more about their career ambitions. Following two rounds of interviews with other members of the leadership team, we offered roles to 6 to start next year.
Of course, our work does not end there. We will now embark on a mentorship program with each new recruit being assisted by a current member of the team and a member of our leadership team. This gives them access to people who were in their situation not that long ago and may be able to help out. In addition, we will be giving them all access to our online training subscriptions, internal and external newsletters, and they have an open invitation to visit the office. In fact, anything that can help them hit the ground running when they join us next year without distracting them from their studies and enjoying their final year at university.
As a British/Indian business, we have tried to bring the best of western working practices to our Indian colleagues whilst retaining all the best that India has to offer. We promote a culture that all of our people should work "normal hours" and encourage our clients to have meetings with our Indian colleagues at times that suit both parties. Work/life balance is not really a concept in India in the same way as it is in the UK and other western countries, but we believe it is very important and just one of the ways that Xperate is working on "breaking the mould" of how outsourcing should be done.